At Krispy Kreme we serve the freshest and most loved doughnuts and coffee in the world, and we know this starts with our team. If you love our doughnuts, you have a sense of fun, a sprinkle of pride in what you do, a good work ethic and a positive attitude, you will mix in well. It takes a true team to deliver the most awesome doughnut experience imaginable, so if this sounds like you we would like to meet you.
Who Makes Up Our Team ?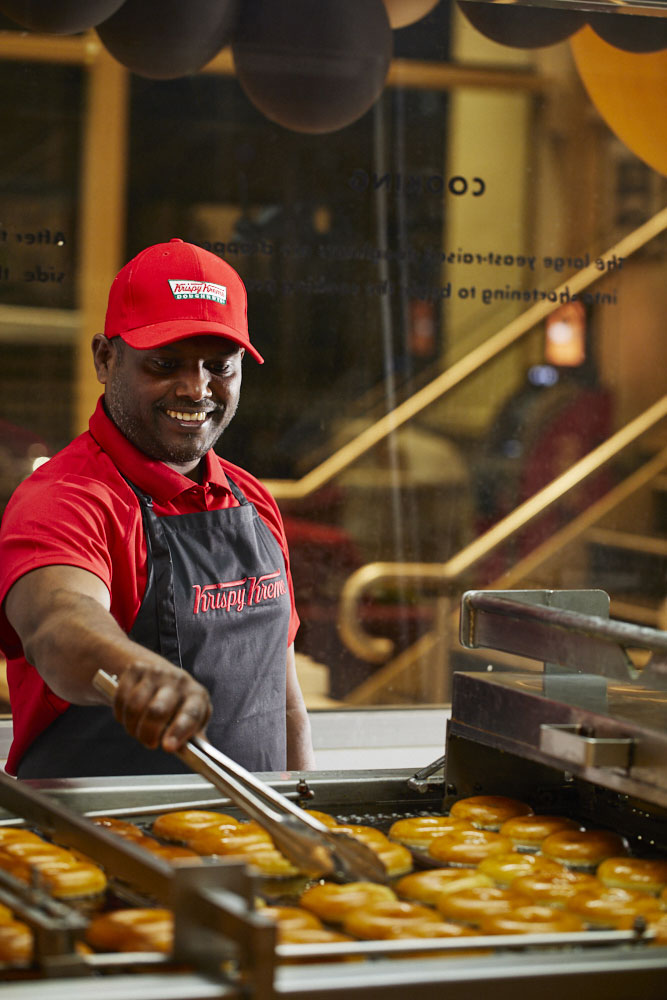 Production
The magic all starts with our production team, they are responsible for making the freshest doughnuts daily. They are the team that set the scene, making sure our signature, Original Glazed doughnut is exactly the same as it was back in 1937, every day. So our production team have fantastic attention to detail, they are fit and able bodied, they are an important part of our guests Hot Light experience. Production can run for 24 hours a day so flexibility with working hours should be considered.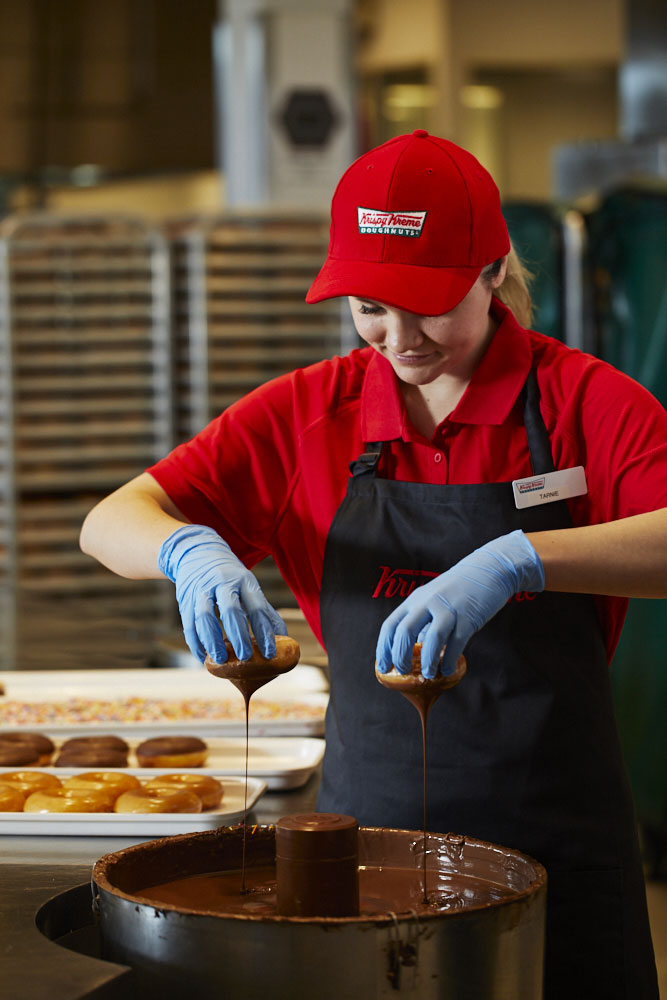 Processing
Our processing team members are a work of art! They are the engine room of the doughnut making process, they pick and pack doughnuts to go fresh to our shops and to our OTR partners. They fill and decorate our assorted doughnuts, including our monthly limited time only doughnuts. This team is the heart beat of the business, making sure we have beautiful, consistent looking product on time and in full. Processing can run for 24 hours a day so flexibility with working hours should be considered.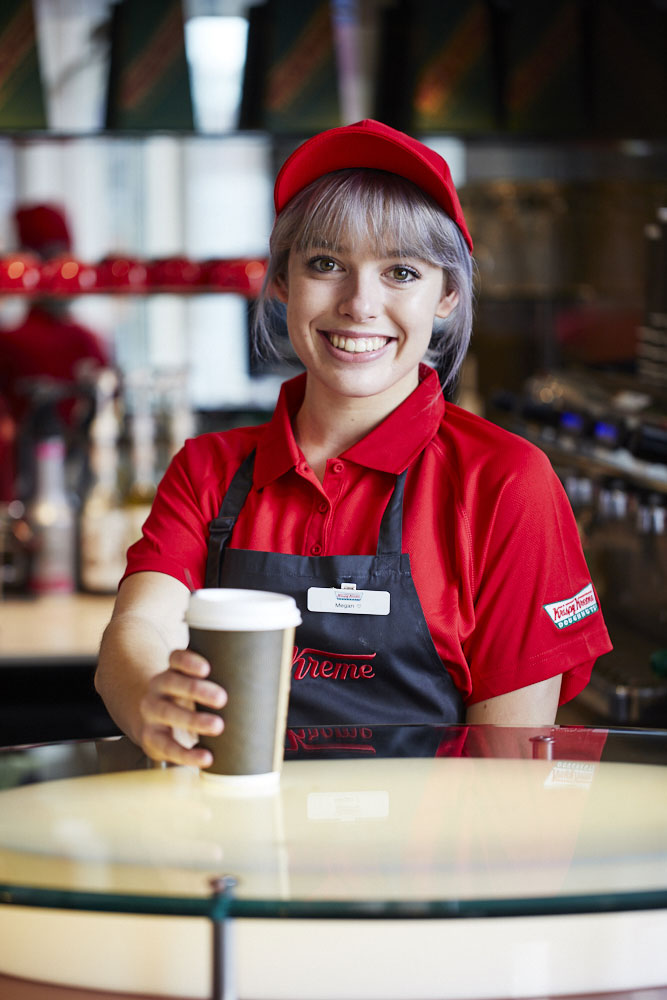 Retail
Our retail team is a bunch of fun and friendly people who deliver a great service experience, they put our guests first. Our retail team strive to be the best baristas in the business, after all a doughnut tastes better with a coffee. You will maintain the dining areas and ensure our store is always in first class condition. A Krispy Kreme experience is 50% our great products and 50% about great service, so we need all our retail team to be excited by the opportunity to engage customers and deliver magic memories. From time to time Krispy Kreme runs themed days like Talk Like a Pirate Day, and our retail team get involved. You will certainly be ready to share all the magic that goes into making our customer's visit to a Krispy Kreme store memorable and special. This is more than just a job; it's an opportunity to be part of something special.
Meet our team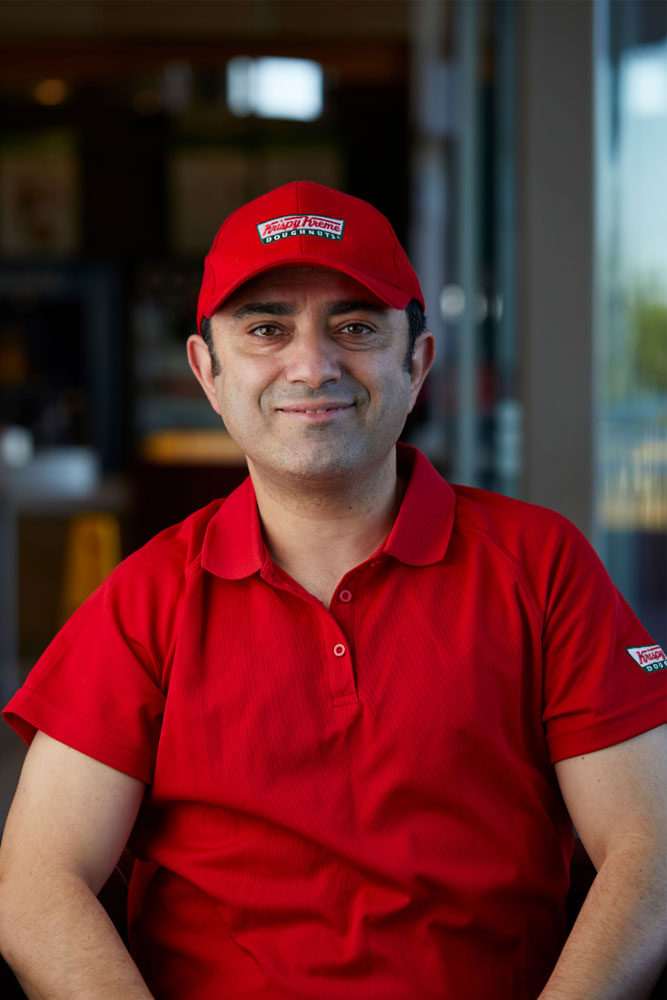 Farbod - Store Manager (Retail)
Farbod is Store Manager at our West Croydon, Hot Light store and he is a Krispy Kreme Original and has been with Krispy Kreme since we opened on July 15, 2014. Farbod is a senior store manager and has opened 4 of our 7 stores and is known for growing and developing a strong retail team that delivers exceptional customer service. One of our best Barista's Farbod prides himself on getting to know his regulars and having their coffees ready as they walk through the Door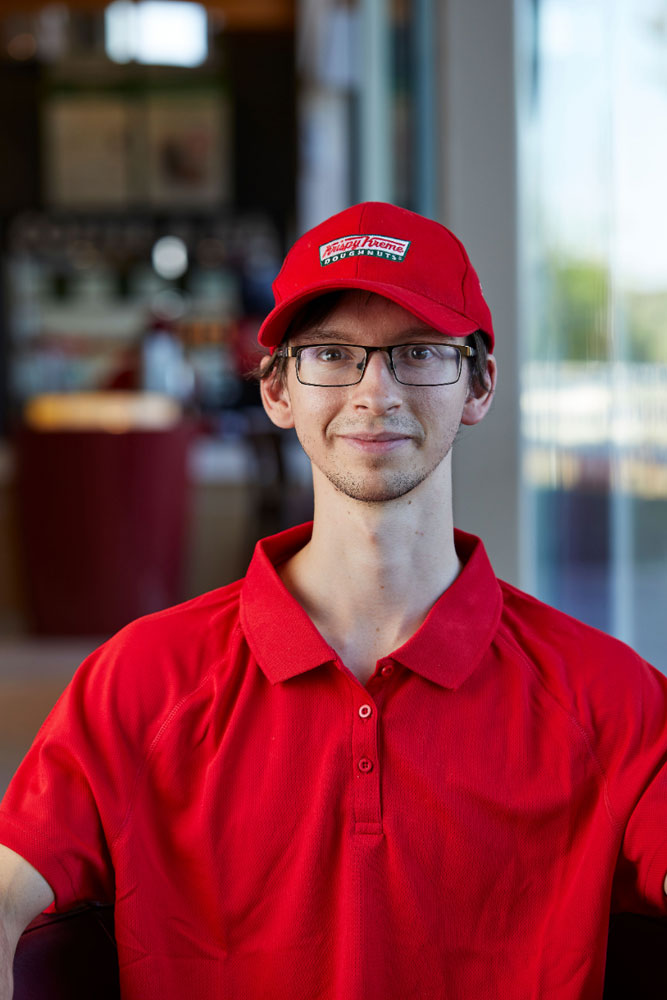 Sean - Production
Sean is a Krispy Kreme original, he was part of the opening team on July 15, 2014. As production leading hand he is responsible for making sure that the team deliver product on time and in full. His attention to detail and commitment to process has him striving to make the best-looking doughnuts with the best yields.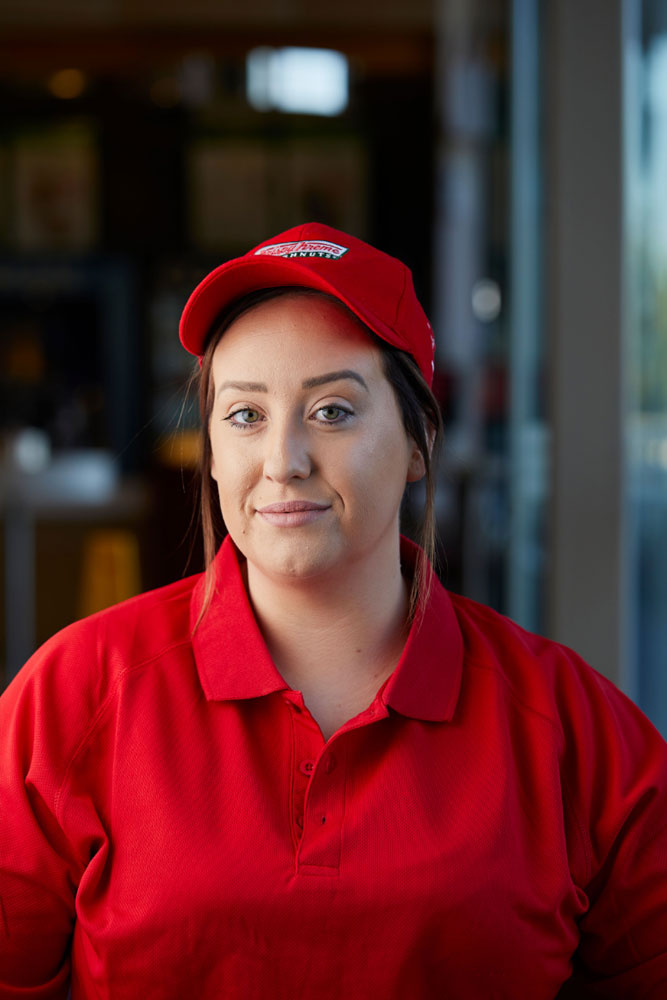 Bec - Processing Manager (Processing)
Bec is a Krispy Kreme original, and has worked her way up to head of processing managing the decoration and delivery of all doughnuts, fresh to our shops and the OTR network. Bec tells us she loves the team environment and the opportunity to have fun at work and be yourself whilst delivering a quality product. Krispy Kreme holds a number of themed days every year, the team dress up to celebrate with customers. We get lots of fans in on these days and one of Bec's most memorable moments is meeting a young customer during a Halloween event. The young boy was so excited to be there I felt like it a was a great memory for us both.
Previous
Next
Start the application process here